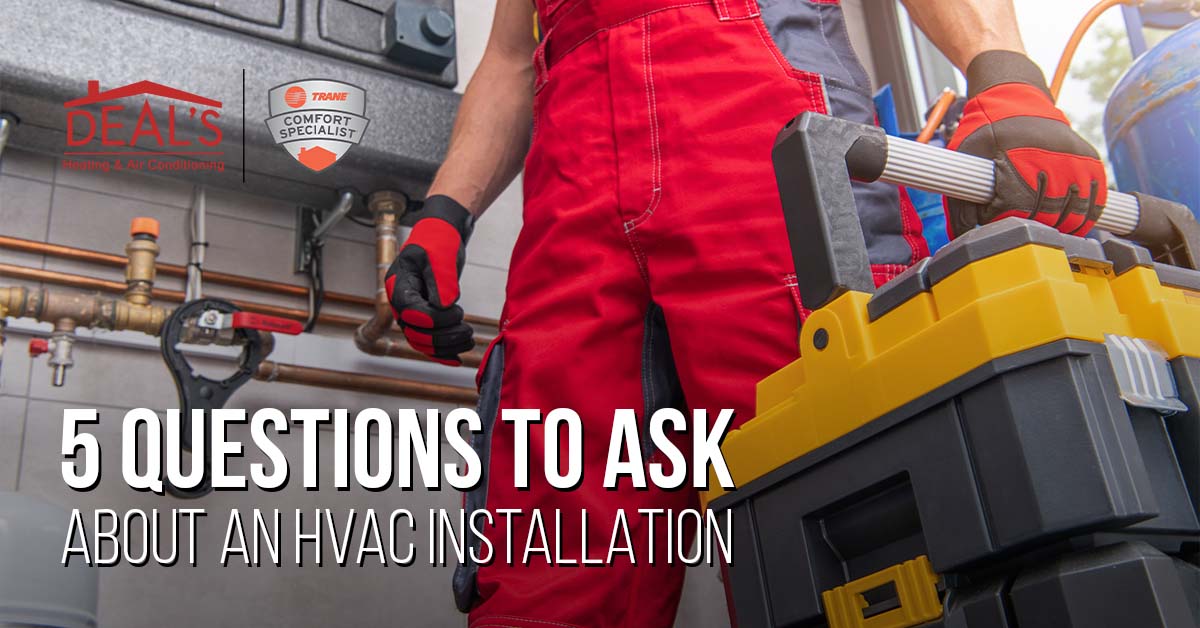 A new HVAC installation may be warranted if you have heating and cooling issues in your home or office. Although a replacement may be needed, the process can cause many questions and concerns. Maybe you are wondering what size unit you need or if repairs will be covered by your warranty. Deal's Heating and Air in Statesboro wants to share 5 questions you should always ask during the HVAC installation process.
What Company Should I Hire to do the HVAC Installation?
Once you have decided it is time for a new HVAC unit, a very important question you should ask is who should be hired to complete the job. We recommend finding a licensed HVAC company and technician with experience in residential and commercial HVAC installations. Choosing a qualified team to perform the HVAC installation will help lower the chances of damage or improper HVAC installation.
In addition to the licenses, we recommend reading the company's online reviews. Reading previous customer reviews can give you more insight into the type of company you will be working with. Our customer service is one of our top priorities.
What Type of System Do I Need?
Different types of heating and cooling systems can be chosen for your home or commercial building. Whether you decide on a traditional air conditioner unit, ductless AC unit, furnace, or heat pump, picking the right system for your home or office is the next step of the HVAC installation process. Consider finding an experienced HVAC installation team to help you decide what system best fits your needs.
What is the Right Size Unit For My Space?
HVAC systems need to be sized correctly for the spaces they will be heating and cooling. Asking an HVAC contractor what size unit best fits the space will allow you to choose the most efficient system.
If you have an HVAC system installed that is too big or small for your size home or office, you may notice that the system will struggle to reach and maintain the set temperature. This can cause unnecessary wear and tear on your system. Inappropriate sizing of your HVAC system can lead to higher energy bills and a shorter unit lifespan.
What Type of Filters are Offered for My New Unit?
Consider what type of filters will be needed once your new system has been installed. Some heating and air conditioning systems require specific types of filters. Choosing the proper type of filter can help improve the air quality in your home or office, and it can also help protect your HVAC unit from internal damage in the long run. When installing an HVAC system, ask your technician which filters they recommend for your unit.
Does My System Have a Warranty?
Before purchasing your system, it is important to determine the type of warranty it may have. Comparing different warranties is always a recommended step. A new heating and cooling system can be a large investment. A warranty can help lower your out-of-pocket expenses for repairs needed in the future.
HVAC Installations in Statesboro, Georgia
When you need a reliable HVAC installation or servicing for your home or business, Deal's Heating & Air can help. We have provided our customers with honest, dependable, and affordable heating and air conditioning since 1975. We provide the support our customers need when they have questions about the HVAC installation process.
When you work with Deal's Heating & Air, you will receive flat-rate pricing, 24/7 emergency services, and a one-year satisfaction guarantee on all our work. Our experienced technicians will happily answer your questions and help guide you through the HVAC installation process.
Our services are available to homeowners and business owners in Statesboro, Brooklet, Sylvania, Claxton, Metter, Millen, Pembroke, Portal, Register, Rock Ford, Twin City, GA, and nearby areas.