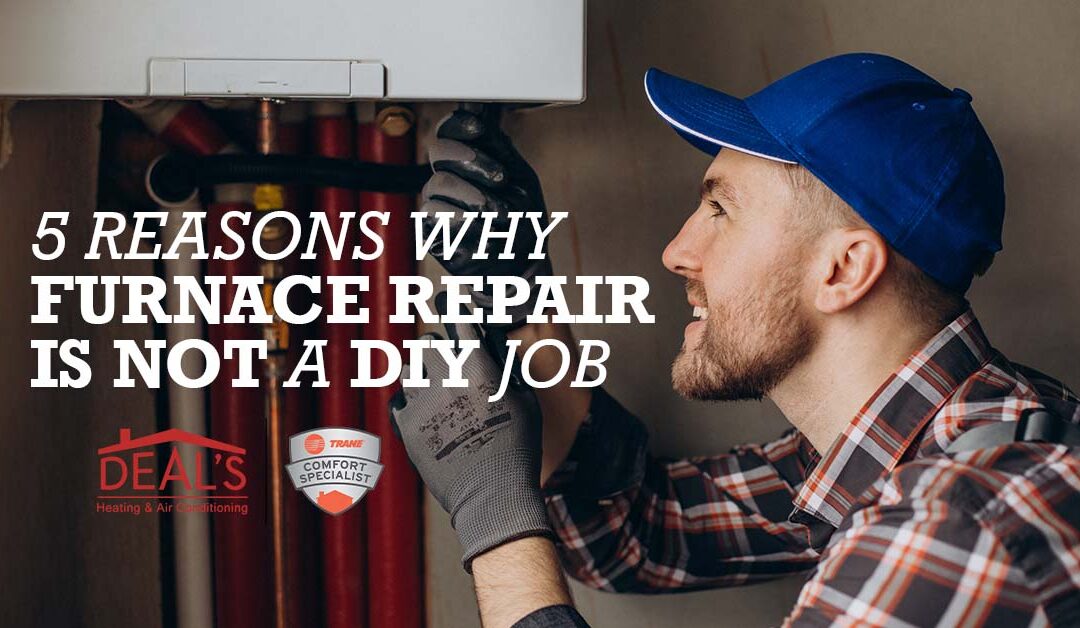 Many homeowners and business owners know the importance of performing simple HVAC maintenance tasks, like regularly changing the air filters. This is an easy D.I.Y. solution for helping your systems run smoothly and efficiently. Even though an air filter change is something most homeowners can do themselves, some cooling and furnace repairs should be a job for the professionals. These five reasons are why all heating systems and furnace repairs are dangerous for D.I.Y. projects.
1. Fire Risk
With many D.I.Y. heating and furnace repair projects, there is a risk of starting a fire. This can easily happen if your system does not receive regular furnace maintenance before turning on the system during the cold winter months.
This can become problematic for those trying a D.I.Y. solution because it is easy to miss faulty wiring or electrical problems. There is also a chance that a homeowner could miss a gas leak or pilot light malfunctions, which could also ignite a fire. If you use a certified and experienced technician to perform all furnace repair services and maintenance, you will also lower the risk of starting a fire.
2. Carbon Monoxide Dangers
When homeowners attempt to do D.I.Y. furnace maintenance or repairs, they are risking carbon monoxide leaking into their homes. Mishandling multiple parts of the furnace increased this risk. This extremely dangerous gas is both odorless and colorless, which means it can go unnoticed, causing carbon monoxide poisoning to those within the building. Having a technician inspect your unit during regular furnace maintenance will help locate any area that may need furnace repair services.
3. Increased Repair Costs
Many homeowners think that a D.I.Y. project will help save some money, but in reality, it may end up costing significantly more in the long run. If the project does not go as planned, the homeowners could be left with a much larger, much more expensive repair cost. Having a certified technician perform furnace repair services or maintenance will ensure your unit stays in the best condition while staying cost-efficient.
4. Furnace Warranty
Many HVAC and furnace manufacturers require regular maintenance and service to honor their warranty. Doing D.I.Y. projects on your furnace may void that warranty. If you have a warranty on your furnace, it is essential that you call an approved technician to perform work to ensure that the warranty stays valid. If not, you will be responsible for the current problem the unit is experiencing, as well as paying for future furnace repair services your unit may need.
5. Problems Selling Your Home
If the time comes to sell your home, it may be a concern for potential buyers if the homeowner performs the furnace repair services or maintenance on their unit themselves. The buyers may feel as though the unit has not been properly maintained and could cause potential harm to the home. This may be a reason for a potential buyer not to buy your house. Avoid losing a buyer by having an HVAC contractor perform regular furnace repair services and maintenance your system needs.
Call Deal's Heating & Air For All Your Furnace Repairs
With the cold temperatures that winter brings, it is imperative to consider whether you may need furnace repair services or maintenance. Performing these repairs may be dangerous and costly. Having a professional HVAC contractor regularly inspect your furnace will help ensure your unit is able to keep the entire home or commercial building warm, even throughout the coldest months of the year.
Deal's Heating & Air has been servicing homes and commercial properties since 1975. As a family-owned and operated business, we take pride in providing honest and dependable work to each of our customers. Our service areas include Statesboro, Brooklet, Sylvania, Claxton, Metter, Millen, Pembroke, Portal, Register, Rocky Ford, and Twin City. Call us today if you need furnace repair services or maintenance.