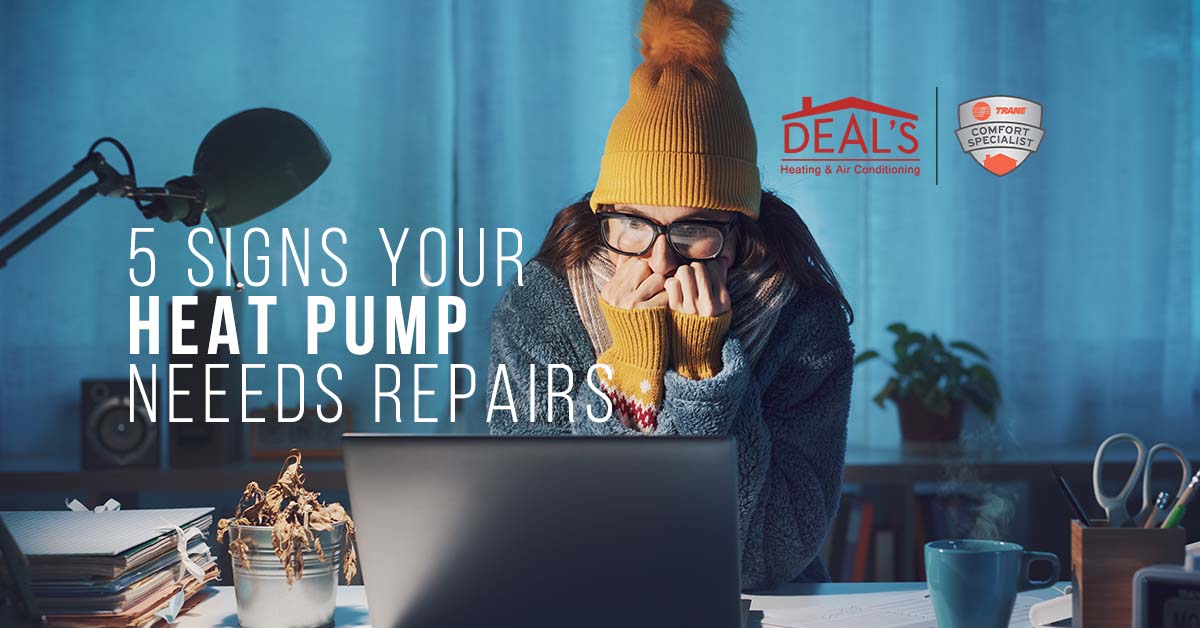 After a winter of keeping your house warm, your heat pump technology may not function as well as it once did. Though it often goes unnoticed, the heat pump is the central system that heats your home. Many residents do not pay it the attention it deserves, resulting in unseen issues turning into costly
repairs
. Regular preventative maintenance of your equipment is extremely important to extend its life. You can save money by keeping vigilant and looking out for these five issues.
Strange Smells
A rotten smell in your house will always be a cause for concern, but if you find that this smell is coming from your heat pump, you'll want to call a skilled repair technician. A musty or rotting smell could imply mold has begun to form within the machine or that something has crawled inside and died. This will need to be taken care of as soon as you notice the change in smell. However, immediately call your repair technician if you start to smell burning. A faulty heat pump that smells like something is burning could indicate issues with your electrical system.
No Heat
A heat pump is supposed to be your home heating system. If your heat pump is working at max capacity, but your house is still cold, you may have an issue with your fan, a compressor issue, or a refrigerant leak. These are just a few heat pump operating issues it could be having. It is important to have a skilled technician service the heating source to ensure the system is working properly. The longer you wait to have your heat pump inspected, the higher the likelihood of more damage being done to the system.
Ice on Coils
During the winter months, seeing ice on an outdoor unit is not unusual. If you notice that the ice is particularly thick or is on any moving parts, you may want to call a technician. If you allow the ice to build up, it may impede the movement of your pump, causing damage needing repairs or replacement. Being careful to not let large amounts of ice to build up on your unit could also help you avoid a large repair bill.
Clicking Noises
Loud grating or clicking noises are often precursors for more significant issues. The noise could be a loose fan belt, a poorly lubricated motor, or something else. While they may be something as simple as a loose bolt, ignoring the noise could worsen the problem. It's imperative that you call a technician as soon as you notice the change. After the cold season passes, having regular maintenance performed on the unit can also help avoid any major problems later on.
Bills Up, Temps Down
If you've been keeping your thermostat low in the winter but still found your bills increasing, this could be an indication that there is an issue with your heat pump. A heat pump needing repair will need to work twice as hard to do its job, whether it is caused by a more complicated issue or something as simple as a dirty air filter. To be energy efficient, it is important to make sure your heat pump system is working properly, allowing for a low energy and heating bill.
Call Deal's Heating & Air When You Need a Heat Pump Repair
If you need a heat pump system repair or questions about the different types of heat pumps, give us a call today. At Deal's Heating & Air, we offer several services to ensure you are comfortable in your home or business. We provide our customers with honest and dependable services, flat rate pricing, 24/7 emergency services, and a one-year guarantee of 100% satisfaction on all work we perform.
Our services are available in many areas, such as Statesboro, Brooklet, Sylvania, Claxton, Metter, Millen, Pembroke, Portal, Register, Rocky Ford, Twin City, GA., and other nearby locations.